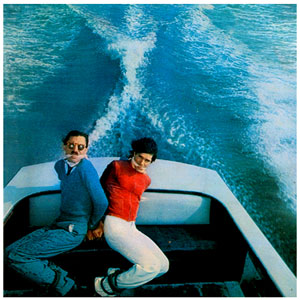 I'll have to make an admission. While everyone else cites
Kimono My House
as Sparks' masterpiece, I actually favor
Propaganda
. For my money, the songwriting is just a hair better -- the lyrics, the melodies, and the hooks. So many little surprises. Not a bad song in the bunch.
Perhaps others in the audience would have strongly disagreed with me, but they wouldn't have cared, based on the enthusiastic reception. It helped that there was finally a solid support act. Dan Le Sac And Scroobius Pip play laptop hiphop. Dan is the wizard of the Mac and Pip is a very British, very smart and smartass guy with a rapid flow.
Musically, their songs were somewhat hit and miss. But Pip's personality made up for it, to a large degree. He had lots of props like a periodic table (the long bearded Pip noted, "Betcha didn't think you'd see a terrorist with a periodic table."), various hats and such, and desk set up by which he became a newscaster of sorts. That was for a song that was a tribute to a magician who died while performing (apparently he was someone known in England). They also did an odd version of Prince's "Cream" -- a bit of Flying Lizards in there. They were entertaining and passed the time well.
Of all of the 21 albums, other than perhaps
Number One In Heaven
, there could be no greater test for Russell Mael than
Propaganda
. Not just the album, but the song. With some electronic assistance for the backing (NOTE: please see comments -- someone else who was at the show disagrees with me, and I won't claim to be perfectly right about this), Russell went through the
a capella
intro and then the band ripped into "At Home, At Work, At Play". I think this is one of the great starts to any album, ever. In a week that's been full of "I can't believe that I'm hearing this" moments, this was the only time where I've been dumbstruck for a few moments, hearing the music, yet not quite listening.
I quickly snapped out of that condition, while Russell dashed his way through the words -- enough for three three minute songs -- and the band acquitted itself well with the stop-start tempos. That being said, this is one hell of a tough song for musicians to start with, since it's such a powerful burst. I wish they had done the song again further down in the set, when the guys had really warmed up.
By the end of the album, they were really cooking. It doesn't get much better than "Who Don't Like Kids". The song has about five distinct catchy parts, from the simple chorus, to the verse, to the middle eight, to the second middle eight, which has a variation (Russell singing the title very quickly), and a brilliant rocking ending. For this gig, it was Jim Wilson and Marcus Blake playing a guitar riff over and over and over and over and over, while Steve McDonald joined up on bass and Steven Nistor crashed the cymbals. They suddenly stopped, the crowd went wild, and Russell clambered to the front of the stage and yelled the title out...and it was back to that riff.
The power of that riff was so great, that Ron Mael came out from behind his keyboard outpost to do the odd shuffle jig that has been his dance ("Everybody Do the Ronald"?) for years. He soon thereafter apologized for getting carried away.
But let me get back to a point I made earlier about Russell. As you know, he can sing really high. Or rather, he can still sing really high. He first showed that he hasn't lost a thing on "Don't Leave Me Alone With Her", a song which has perhaps the most furious take on an Eastern European melody that I've ever heard. Each verse requires Russell to go up and up in his range, ending in falsetto stun range. He did it perfectly each time, and this deep cut got one of the loudest rounds of applause of the night.
After the breather provided by the always lovely "Never Turn Your Back On Mother Earth", Russell tackled his other big challenge of the night, "Something For The Girl With Everything", a great deal of which is sung in the falsetto range. And lyrically, it makes "At Home, At Work, At Play" seem laconic. He navigated the song with expertise, while every musical piece fell into place, from the great use of dynamics (especially when everyone drops out so Ron can plink out a few notes) to the roaring guitar solo by Wilson.
The band (which Russell noted was, with the exception of McDonald, the backing band for Daniel Lanois -- what a contrast) had to really love tonight, as this, along with
Big Beat
, is one of Sparks' most rocking albums. Quite a few songs had extended endings. I'm not talking about pointless jamming, but just locking into a great part of the song and letting it go on just a bit longer.
The encore
du jour
was "Lost and Found". A nice way to end the evening.
Only one more night to go. I'm hoping that these reviews so far have given everyone an impression of the shows (I suppose there is nothing else to do). I'm trying to be objective as possible, and noting any major fluffs that occur. There have barely been any. Probably the only other criticism so far is that the sound at times could be better, especially with regard to the guitars, which sometimes aren't loud enough. But otherwise, I'm hearing top flight musicians play some of the best albums ever. It's hard to find too many flaws with that recipe.