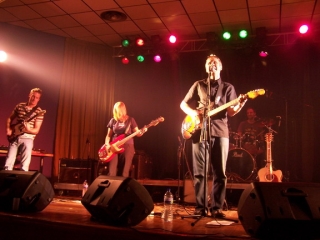 The Afternoons --
Sweet Action
(Saturday)

This Cardiff band continues its classic Brit pop winning streak on its third full length. You can mention these guys (and one gal) in the same breath as The La's, The Housemartins, The Candyskins, and the pure poppy side of Super Furry Animals -- they are that good.

Even better, The Afternoons manage the difficult trick of writing genuinely happy pop songs without being sappy, or undercutting the joy with irony (nothing against irony, mind you). Moreover, they absorb influences into their sound, making their sound pleasingly familiar without being derivative.
This is illustrated by the superb "High Summer Lovers". This fizzy hypermelodic is driven by a pulsing rhythm that sounds like a cross between Wizzard and early Roxy Music, Paul Rapi actively pounding the keys and guest Ceri Rees honking away on the sax. This is one of many tracks that screams 'summer single!' Another great up tempo track is the bouncing "Touch And Go", with its rubbery bass line, intent strumming and keyboard accents.

Frontman Richard Griffiths, who co-writes the songs with drummer Pete Morgan, is a real strength, with his expressive voice. Griffith's emotionally resonant vocals are showcased on the finale, "Winter Is Dead", a soft piano ballad. While R & B is not a major part of The Afternoons' sound, there is a soulful underpinning to this track.

Jangle fans will lap up "Don't Turn Back (Open Your Eyes)", a variation on the motif of The La's standard "There She Goes". This pithy tune wastes no time in hitting on both the familiar primary melody and a succulent secondary melody. The band whimsically salutes George Harrision on the mid-tempo "We Could Start Over", with a brief lead guitar interlude nicked from "My Sweet Lord".

This is a timeless set of premium pop music, just in time for spring and summer.