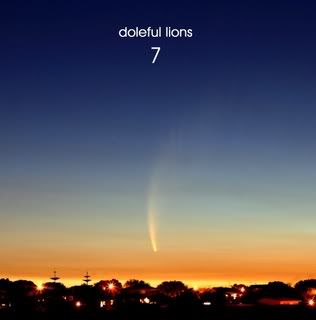 Doleful Lions --
7
(Parasol)
I think the phrase "transition album" is not being used much anymore, perhaps since so few artists make enough albums to reach that point. But the seventh album from Doleful Lions fits the phrase to a 't.' Although Jonathan Scott has made various changes in how he presents his music, none have been so drastic as this one.
And we can thank his brother Robert, who is back in the Lions' fold, for effectuating this change. Robert has provided electronic backing for Jonathan before, but never before has it been so extensive. Jonathan's acoustic guitar is less prominent on this album, with Robert providing an array of sounds and effects to back Jonathan's songs.
Does it work? Most of the time it does. But this new approach hasn't been perfected yet. That being said, Jonathan's often mystical lyrics are well suited for the spacey and warm sounds that Robert concocts. The biggest drawbacks are that the sound can be a bit sterile and, at times, the busy backgrounds threaten to overwhelm Jonathan's angelic vocals. This latter point is critical, because the heart of the Doleful Lions sound is Jonathan's special voice, childlike and vulnerable, which creates an instant empathy.
What is most encouraging is that despite this shift in sound, the songs are as good as ever. I have to first discuss "Winfield Walker", which clocks in at just shy of eight and a half minutes. The song immediately gets going, with vigorous electronic drums and icy melodic synth lines. The haiku-like verses have Jonathan singing over lighter percussion and strummed guitar (sounding a bit like New Order) before flowing back into the harder percussion of the intro. The lyrics are exceptionally spare and slowly reveal a very ominous tone that doesn't quite fit the vibrant and atmospheric music. This song could be from the perspective of a jealous lover or an angry god, asserting the ultimate control: "What destroyed your soul/this blade insane/forever shade/heaven made/today."
The main components of the song are contrasted with a beautiful breakdown with elegant keyboards suggesting flutes and also a great New Order-ish instrumental break about two-thirds of the way through the song.
This song really shows how fruitful this new sound should ultimately be, as it sacrifices none of the beauty of Jonathan's songwriting, but casts it in a new light that is extremely attractive to listen to. I especially like the fact that it integrates Jonathan's guitar playing with Robert's most impressive sonic soundscape. I think that the guitar should always have a place in Doleful Lions music, though not necessarily on every song. And the same holds true for keyboards. Whatever the song needs, within this configuration, should be used.
After seeing a couple of live performances of "Magic Without Tears" done by Jonathan with just his acoustic guitar, hearing it reimagined in a percolating mid-'80s fashion was a surprise. But Robert's additions, particularly with the rhythmic components, turn a fragile and lovely song into an inspiring piece of modern pop. This tune may be as close as Jonathan will come to a positive thinking tune. The song itself has a great build up, with verse after verse chronicling the pitfalls ahead and the chorus finally coming in to save the day.
Okay, the odd percussion breakdown in the middle may not be everyone's cup of tea, but if Alastair Crowley has a Top 40 chart down deep below the surface of the earth, he's bopping to this right now. He also can sway a bit to "Here Come the Star Nations", which moves more into the turf of Vince Clarke's work with Depeche Mode and Erasure, at least in terms of the keyboard sounds coming from Robert.
Even with the markedly more electronic backing (because I should note that it's not like there haven't been keyboards and drum machines on prior Doleful Lions efforts), the pastoral side of the band has not been shunted aside. "White Lotus Day" is a lovely song, with the electronics giving it a orch-pop bent. And on "Holy Hill", Scott's acoustic guitar moves to the forefront on a song that floats and glides, with Robert providing just the right amount of ornamentation in the background.
If this album has a weakness, it's that there are too many instrumentals, and a couple of them, especially the opener, "Blazing Sun Rising Over the Mountains of the East", go on a bit too long. I think this made it a bit harder for me to get into the album at first, as the instrumentals disrupt the flow of the album. This is exacerbated by the fact that three of them come on the second half of the disc.
Still, I'm excited that Doleful Lions is remaining fresh and open to new approaches. As long as Jonathan's voice doesn't get lost in the mix of the dazzling soundscapes, I am even more excited about hearing the next album, as the Scott brothers perfect this sound.