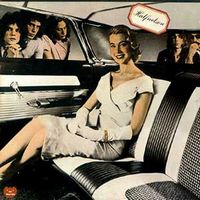 Leave it to one of rock's most original bands to come up with an original concept to hype up its 21st album. Sparks is doing a long residency in London, playing every single one of its albums. Just think of the rehearsals! What is more amazing than thinking of trying such a feat is that, based on the evidence from the first night of the stand, Sparks is going to pull it off quite nicely.
The first Sparks album (which actually was the first Halfnelson album, since that was the band's name until it was convinced to make the change by Bearsville record label head Albert Grossman) is a weird mix of British Invasion power, post-Invasion tweeness, and Mael-ian eccentricity. It has a few of Sparks' most conventional songs, balanced by some of their weirdest. It's quite the corker of a debut.

Before I discuss the show, a word on the opener, Rod Thomas. He's a personable lad from Wales, who used various digital effects that are becoming somewhat commonplace. By that I mean that he would play a bit of guitar or percussion or do a vocal, digitally record it and loop it. I saw Liam Finn do it and others since.

Thomas has a nice voice and a decent way with a melody. However, he's a bit too constricted by his on-the-spot samples, which limit where his songs go. That being said, the last number, where he simply strummed a ukelele, was a winner.

The anticipation built amongst the 450 or so folks (my estimate -- the venue holds 800) who had come to see the Maels make history. From the first notes, it became apparent that the musicians joining Ron and Russell Mael were primed too. Guitarist Jim Wilson played chords with a thick contemporary sound, but not so heavy that they overwhelmed the songs. His lead playing, essential to the accents and hooks on some songs, was simply superb, as he recreated the tone of the originals perfectly.

On bass, Redd Kross's Steve McDonald was his usual wonderful self, having a great time throughout. And drummer Steven Nistor was truly top notch. On the rockers, he played with authority, and he was creative on songs where the percussion was not as prominent. He drove the band quite well.

Ron Mael was in fine form, with a variety of facial expressions. Well, more like four or five. Brother Russell dazzled simply by remembering all those lyrics. While the musicians all had easels and cheat sheets, there was no monitor or anything in site for Russell. He can still hit the high notes, as he proved on "Biology 2" (which he introduced by noting that folks wondered if he could do it). His performance of that song was followed by raucous applause.

That song came off a bit better than a couple of other songs that I thought would be tricky live. The versions of "Roger" (with Steve McDonald on acoustic guitar) and "Fletcher Honorama" were certainly fine, but they lost the most in translation to the stage. With "Roger", it was just hard to recreate the full fledged twee wigginess of the track. As for "Honorama" (my fave track on the LP), as well as it was played, it's hard to recreate the atmosphere of Todd Rundgren's production.

Beyond those songs (which again, were good), the rest of the tunes from the debut album sounded outstanding on stage. Whether it was the bounce of "Big Bands" transforming into a fast pace, the pop glory of "Wonder Girl" or the bizarre drama of "High C", it was all working. The crowd ate it up. One thing that surprised me, and then I realized I shouldn't have been surprised, was all of the singing along. But really, if you're going to see Sparks play an album released more than 35 years ago, you probably like it.

[Two notes on that point. 1. I did speak to a guy in the queue who had never heard the album before. Before tonight, that is. 2. Russell thanked the audience, noting that going to see one of their most obscure albums meant those in attendance were "cool."]

The best was saved for last, as the band tore into "(No More) Mr. Nice Guy". This is a flat out rocker and it was played with glee and abandon. Ron had my fave facial expression of the night -- he'd scowl like a not so nice guy during the verses. Steve McDonald was pogoing near the end. Jim Wilson was smiling. It was fantastic.

The band encored with "England", the b-side of their "I Wanna Hold Your Hand" 45, an Earle Mankey composition. Every night, Russell said the encore would be an obscure track.

What a great night -- this totally justified my reason for coming here. Four more to go. Stay tuned.