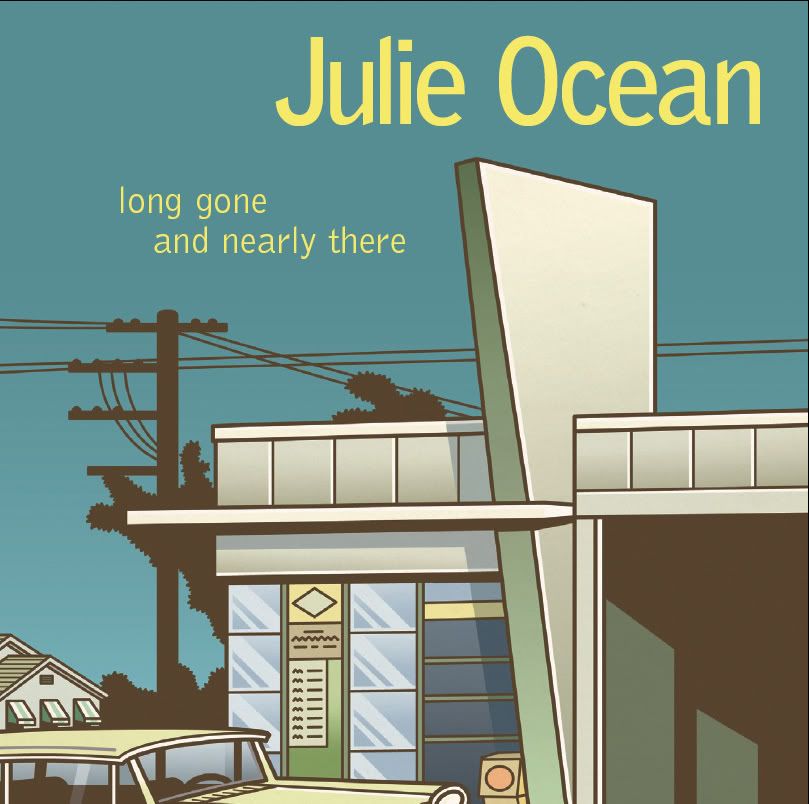 Julie Ocean --
Long Gone And Nearly There
(Transit Of Venus)
There are four perfect songs on this record. Well, near perfect, at least. No duds either. But this is only a good, not great album, at least in my view. And I, of course, shall explain what I mean.
Julie Ocean is led by Velocity Girl's Jim Spellman. The music is crisp and clean power pop, with a gigantic sound. So I suppose it's Power Pop. It really rocks, in the sunshineiest way possible. Reference points? If you were a Velocity Girl fan, the song "Audrey's Eyes" is a template, but with a bigger guitar sound. Other bands that come to mind: Lolas, Bram Tchiakovsky, The Records, and Teenage Fanclub.
In the tradition of classic power pop tunes like the aforementioned Bram Tchiakovsky's "Girl of My Dreams", "#1 Song" has an instantly memorably guitar part and a monolithic melody. The conceit of the song is wonderful -- comparing the throes of love in the early stages to a song. The ambition is to turn the love into a number one song, but, of course, "it won't be for long." Maybe the relationship is ephemeral, but I can hit the repeat button as often as I like to cue up this 3:34 slice of nirvana as often as I like.
Two other songs are shorter and sharper shots. Album closer "Looking at Me/Looking at You" mixes a Buzzcocks/Undertones fast tempo with the splendor of Teenage Fanclub and Silver Sun. Again, the band mixes giddy happy chords with a tinge of sadness, which makes the happy parts all the more significant. Also, Spellman does something he did a lot in Velocity Girl -- constantly playing leads throughout the song.
The opener, "Ten Lonely Words", is mid-tempo and has a sing-song melody. It wastes no time in getting to the hook, but getting there is pretty fun. The middle eight is concise and leads to a great harmony vocal interlude.
As great as these songs are, they have a lot of nice but lesser cousins strewn throughout the disc. This is the only drawback to the album. While it's nice to have a defined sonic template, the numbers on the middle of the disc blur together a bit. This is exacerbated by the lead vocals which are pleasant, but not infused with a whole lot of personality.
The one song that breaks this mold is the other stand out. "Here Comes Danny" clocks in at a bit over 5 minutes (!) and as much as I like hearing a chorus right away, taking one's time isn't always a bad approach. This disc could stand more breathers like this, particularly with a killer chorus. Next to "# 1 Song", this is the most instantly memorable song on the collection.
The whole thing takes 25:09 to get through and very few albums this year will have four songs as good as the ones I discussed here. If Julie Ocean can find a way to mix up its material as well as The Undertones, who provided the band's name (a song from the 'tones'
Positive Touch
album), it will go from being a band who has some great singles (well, in the past they would have been) to a great album band.