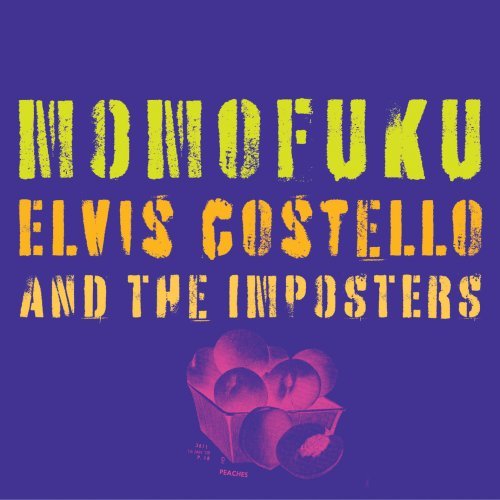 Elvis Costello And The Imposters --
Monofuku
(Lost Highway)
This is bash it out craftsmanship from Elvis C. Recorded in two weeks, this album does have a nice energy to it. I wouldn't call it a comeback, as
When I Was Cruel
was a darned good album and
The Delivery Man
wasn't shabby either.
This disc shows that Costello can still write them like he used to. On "American Gangster Time", long time co-conspirator Steve Nieve breaks out the Vox Continental Organ and pumps it up, bringing back memories of those early Attractions records. The fact that the song has one of the better hooks on the record doesn't hurt at all.
There is no doubt that this collection has a great deal of surface appeal. This is Elvis sounding like the Elvis we grew up with. That is good. But it also sets up comparisons that are almost assured to be unfavorable.
Still, when he can roll out a middle eight on the music hall "Mr. Feathers" that is Beatlesque to the extreme, or a mid-tempo country rock charmer like "My Three Sons" (which is not about Ernie, Chip and Robbie), why quibble? This isn't nostalgia; it's classicism.
This is where the album succeeds, as Elvis is as playful as he's been in a long time. "Drum & Bone" is slinky with rhythmic lyrics and a steady bass line contrasting Costello's strummed acoustic, as he notes that he's a "limited, primitive kind of man." But for Jenny (Rilo Kiley) Lewis's harmony vocals, you'd swear this was some newly unearthed 1981 rarity.
Another
Trust
-worthy song is the blue-eyed soul ballad "Flutter & Wow". Nieve plays an Elton John-like piano part, while Costello emotes "you make the motor in me/flutter and wow." An unusual romantic metaphor, but it works quite well.
Where the album falters is when Elvis's versatility gets the best of him. The jazzy "Harry Worth" is lacking in with and is too serious to take seriously. And there are a couple of tracks that are tackled with gusto, but just aren't too strong.
Moreover, Costello is not in peak form lyrically. As much as this album evokes his grand past, and sounds pretty good on its own, I still don't remember many phrases from these songs. And back in the day, Elvis could reel off enough great couplets to fill a page or two of Bartlett's Quotations.
So this isn't essential, and might not even be quite as good as the last two albums. But to hear a punchy rock romp like the closer "Go Away", which shows that Elvis can still pen a wicked mid-tempo rocker with an indelible chorus, it makes me realize that "only" a good Elvis Costello album is still quite a statement.