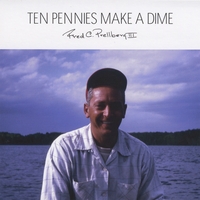 Fred Prellberg --
Ten Pennies Make A Dime
(Denmark Street)
This Chicago singer-songwriter is back and working with producer Ellis Clark, of the psych-pop band Epicycle. This proves to be, yet again, a winning combination.
Prellberg's bread-and-butter is wry and smart observational songs. He has a folkie, friendly voice. Working with a creative and sympathetic producer, he makes albums that are a lot more musically diverse than many of his contemporaries.
He is certainly lyrically diverse. Early on, he reels off "Mari Tamed the Mountain Lion". This song is happy and jangly, and if the lyrics weren't a bit adult, you'd almost think that it was a children's song. After telling the story behind the title in the first verse, Prellberg looks at the routine and spectacular things we do. I think the point is that we all do what we have to do, and sometimes that involves rising to the occasion.
This is contrasted by the witty and cynical "Lie", which will never make any children's album. This is an edgy folk rocker about a bad kid who gets a piece of advice from his dad that carries him through life: "Lie/say what you must to get by/don't think about it/just lie/I know you can if you try." Yes, it's funny, but it's firmly grounded in human nature. With a swell soaring melody in the chorus too.
Then there's the outright comedy of "Real Real Wild". This is a boppin' blues number where Fred sings about what happens when he drinks gin. This track has the good time cheer of artists like NRBQ and The Morells.
Prellberg also shows an affinity for sweeping roots rock songs. "The Hands of God" has a meaty guitar, an insistent organ part and a sad harmonica part -- the perfect setting for Fred's storytelling abilities. It's a good dramatic number with a solid hook. He comes up with a low key anthem on "A Sense Of Home", which has the type of guitar chords that have served The Byrds, Tom Petty, and others so well. It's a classic song structure and sound and Prellberg does well by it.
But the best track is the first track. "No Man's Land" is a smoker. This song stomps with nearly the fury of the best of rockers by Neil Young and Steve Wynn. The song starts with Prellberg talking to the devil and then a preacher and discovering that he's pretty darned well damned. This is a story of redemption with sharp lyrics and great guitar work throughout. This may open the disc but it sounds like a set closer to me.
Fred Prellberg has really found where he needs to be musically. This is a good mix of folk and roots rock, with a great attention to detail.