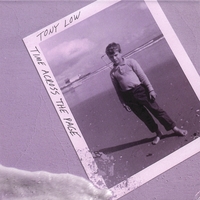 Tony Low --
Time Across The Page
(Lowtunes)
Tony Low was one of the creative forces behind The Cheepskates, a garage rock band on Midnight Records. The 'skates (who also included the talented Shane Faubert) played a folkier version of garage rock. If you were involved in the '80s college radio scene back in the day, The Cheepskates music would have drawn comparisons to acts like The Last and The Outnumbered.
Low has continued to record, and this solo effort shows that he's a true blue jangly folk popper. This album balances more upbeat numbers with some genuinely lovely softer material. Low has a gentle voice that is achingly sincere. Perhaps for some, it might be a bit much at times, but I think it creates a real sense of intimacy. Better yet, Low composes material that fits his instrument perfectly.
The softer songs are some of the best songs on this LP. The delicate "Spiral" is one of Low's best creations, with maybe a hint of Beach Boys sweetness and an undercurrent of sadness. The song floats with a bit of '70's singer-songwriter vibe, and the moodiness is broken briefly by a nice instrumental break, before heading back to more languid sounds.
"Brave Michael" sounds like another '70s refugee. This is pure folk-pop, there's not much more to say about it. Low and fellow guitarist Benjy Johnson harmonize well, on a tale about a man who had stardom and lost it, literally wrestling with demons (at least that's my take on it). Low augments the simple melody with light keyboards and strings, making this lush and pretty.
Low can still rock out a bit, though this album is much more backyard barbeque, rather than garage, rock. "Not the Lucky Ones" has a little fuzz guitar and later on the wah-wah pedal gets some use. And "This Old House" has a bit of that garage momentum, but instead of loud guitars, there are nifty touches like Virginia Keast's trumpet part. The lead cut, "Winter of Black Ice", has some great lead guitar work, which both ornaments and drives the tune at different points. This track has one of the best hooks on the record.
What I like about this album is that although it's not in the same gear, so to speak, as The Cheepskates stuff, I can see how Low got from there to here. And he still knows how to put together a memorable, affecting tune.