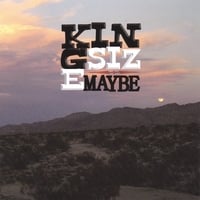 Kingsizemaybe --
Kingsizemaybe
(Brewery)
Is this country rock, country that rocks, or rock that is soaked through with twang? This can't really be alt-country or insurgent country, as it doesn't have that academic gloss or extreme retro vibe that would make the label stick. I do know that there is some shit kickin' going on, and even a bit of ass kickin'.
Now that I've gotten that out of the way, explaining everything while clarifying nothing, let me tell you more about Kingsizemaybe. The frontman is Gary Eaton, who has a nice lived in sort of voice. His wife Shelli plays bass, and she can sing too. As an added twist, you get Robbie Rist in a cowboy hat. Not only does Rist twiddle some production knobs with Mr. Eaton, but he plays guitar and sings some backing vox.
There seems to be one criteria for a Kingsizemaybe song -- it has to be fun. Even if the song is a lament, a song that might head towards Cry-in-your-beer Avenue, there's a spark and energy here that keeps it from being depressing.
Songs like "Keep Your Eyes on the Road" are simply irresistible. Adam Maples lays down a speedy shuffle beat, while Robert Lloyd provides great color with an organ and a mandolin. The tune has a great lead guitar breakdown. This is just a breathless twangy rocker.
"Big Maybe", which I suppose is the band's theme song, is played at a much more relaxed tempo. This song has a loping feel like some of The Band's jauntier outings. The basic message of this song is that you should stick with the ones you like and love, because who the hell knows what else is going to happen. That's pretty good advice. And there's other sorts of wisdom throughout the song: "Well I got your number on the palm of my hand/you can call me first I won't feel like less of a man."
These guys have good taste too. There are two covers here. One is a Hoyt Axton composition, "Sweet Misery", which was once waxed by John Denver. I haven't heard Mr. Rocky Mountain High's version, but I can't imagine it has the bluesy backporch treatment that Kingsizemaybe gives it. It's good. The album leads off with "The Treasure of Love", a George Jones tune. The song puts a bit of guitar charge into good old fashioned honky tonk. Buck Owens would have approved.
The band even nails a bit of a Southern rock feel on "Dallas". Maybe 60 percent Southern rock and 20 percent Eagles and 20 percent Marah. The lyrics are heavy on specific details, but there are a lot of blanks to fill in. It's an epic and a mystery. The swelling organ and the background vocals behind the passionate lead vocal are extremely compelling.
Too often roots rock is a designation that implies one defined sound, and only one. But Kingsizemaybe shows that you can find all sorts of roots all over the place, and they have the confidence and talent to pull off a relatively wide ranging slab of Americana.