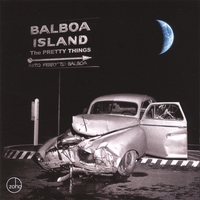 The Pretty Things --
Balboa Island
(Zoho)
This album is somewhat of a surprise. Yes, the Pretties had put out one album since getting back together after the rediscovery and celebration of the band's masterful rock opera
S.F. Sorrow
. But the one-off post-reunion album is as much a staple of rock reunions as the reunions themselves. Who would have thought that these guys had another album in them? Let alone an album steeped in the blues that inspired the band in the first place, and an album that shows that The Pretty Things still are vital and rocking?
The band gets a shot in the arm with neophyte Pretty Frank Holland writing or co-writing (primarily with lead singer Phil May) a lion's share of the material. What follows is a mix of blues-inflected rockers, straight blues, and '70s-styled rock that is more evocative of The Who rather than the mild material that The Pretty Things kicked out during its tenure on Swan Song Records.
The band is conscious of how this new stuff fits in with its legacy, and makes sure that it doesn't diminish it. If you're expecting a return to the 1966-70 period, when The Pretty Things were one of the best psych-rock bands, you'll be disappointed. But if you want a good old school British rock album, this will satisfy your appetite much more than the recent Rolling Stones and Who efforts (which both had their moments, just not as many as this puppy).
The band takes a look back and forward at the same time on the insistent "The Beat Goes On". This song is just a building blues vamp, as May looks back at how things were back in the '60s, and he makes it clear that rock and roll is still rock and roll in this day and age. Drummer Skip Allan makes sure the beat goes on, while the song is an exercise in building and building, with guest trumpeter Rupert Cobb adding a nice triumphant touch at the end.
This big rock sound is portent of things to come. May notes in "Beat" that the Pretties and others were stealing the blues, and songs like "Livin' in My Skin" and "The Ballad of Hollis Brown" show that they still know what to do with them. The latter song is truly a ballad (an old Bob Dylan track), with blues picking and a mystical feeling. May truly shines on this track, as one could certainly make a good case that he is probably singing better than ever.
The Pretty Things go even further on "(Blues for) Robert Johnson". Here, the band locks into the blues groove and doesn't let go. Again, May's vocal is expressive -- the wear on his voice works perfectly. This sounds similar to Robert Plant's bluesier efforts, and Plant, if you didn't know it, is a big fan of the Pretties (they were signed to Led Zeppelin's Swan Song label in the '70s).
The Pretties do a modern update on its patented '60s brand of rock on "Mimi", the only song on the album penned by lead guitarist Dick Taylor. This song could have been done as a burning garage rock tune, and there's enough evidence on here that the band could do it that way. Instead, it's more of a loping rocker, with May sounding quite playful. This song sounds like an outtake from Pete Townshend's classic collaboration with Ronnie Lane, *Rough Mix*.
Speaking of Towser, "Buried Alive" sounds like a page from his playbook. The power chords sound made for windmilling, and the drumming is prominent and busy, with a modified blues rock melody. Yes, this is very Who-like, circa 1973. And it's really good, better than most of the stuff on the last Who album.
There's even one catchy-as-all-hell number. "All Light Up" wafts in with a mellotron and then gets into a lockstep beat with what sounds like a bunch of English schoolkids chanting the title. The song is a percussive stomper and another look back at the tumult of the '60s, with the harmony vocals and melody in the chorus sounding like the Pretties during its prime psych-pop years. It neatly brings the blues and the psych sides of the band together in a real radio ready fashion.
It's great to hear that this overlooked band can still make fine music. While I wouldn't say this is on par with the band's '60s brilliance, I'd rather listen to this than the band's solid but unspectacular '70s releases.