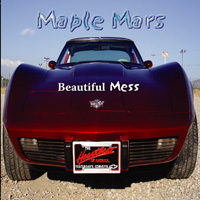 Maple Mars --
Beautiful Mess
(Kool Kat)
Rick Hromadka keeps rolling. His layered bright power pop sounds are married to strong songwriting on a wonderful third album that pretty much picks up where his last disc left off. For all of the gloss and flash and pristine harmonies, many of Hromadka's songs have real emotional weight. So it's not just about catchy hooks as there are real feelings coming from almost every track.
Hromadka believes in the power of music (wasn't that a Triumph or Rush lyric...never mind...), which comes through on track after track. He makes this belief blindly obvious on the lush "Listen", where a pillow of acoustic guitars lulls the ears, preparing them for the cotton candy melody that carries the verses. It has a bit of a psych-pop feel, with a bass part that anchors the song and keeps it from floating away in the ether. This song is comparable to the best of Cloud Eleven.
One other song, "Between Two Worlds", merits comparison to Cloud Eleven (another great contemporary pop group led by a man named Rick -- are we at the forefront of the Rick Rock movement?), this time, by way of The Beach Boys. Certainly, the desolate piano intro, with Hromadka singing in the wilderness, has a certain Brian Wilson quality to it. As the other instruments join in, this heads into Todd Rundgren-spiked-with-a-bit-of-Jellyfish territory. The song then moves into guitar land, with a beautiful extended guitar solo (and the above referenced Rick Gallego adding some pedal steel). This song is calculated to give the listener a melty feeling. Right before the fade, a piercing synth part comes in, as if Hromadka is showing you that he had even more icing for this cake.
This track follows his ace cover of a stone cold classic, 10CC's "I'm Not in Love". It's a pretty daring choice, since the song is so distinctive, both as a composition and as a production. Hromadka doesn't mess with the basic arrangement -- how could he, as it is perfect. Instead, he focuses on smaller details. This is almost like remix, as he finds different places to put in angelic backing vocals. On the whole, this is more restrained, allowing for focus on the elegance of the melody. I should also note how spot on Hromadka is on the lead vocals. As with his own compositions, Hromadka is fully engaged with the material. This doesn't top the original, but it is pretty swell on its own.
Hromadka still rocks, by the way. "Butterfly Effect" is another thoughtful piece of riffy power pop. Hromadka surveys the damage caused by a relationship that apparently just can't work, although there has been a lot of hard work to keep it going. I can't suss out if this is a battle between love and lust ("getting caught up was so exotic/until it all became so chaotic" may be a hint). But he hits the nail on the head when he sings "love will never come painless." Truer words were never sung. Even with the big flash guitar, the melody has an emotional pull, and that tension works well.
Speaking of flashy guitar, you get a big dose of that on the hyper poppy title cut. If Queen came from California, and didn't become Jellyfish, this is a song they would have waxed. This song sounds like a sunnier "Killer Queen", a fact made apparent when Hromadka lays down some Brian May guitar, and borrows some production tricks from that Queen classic. Throw in some Beach Boys styled backing vocals and a head bopping chorus, and we have yet another winner.
Three albums down the line, Hromadka shows no signs of stopping. This album is as good, if not better, than the first two. Buy it now and it's likely there will be a fourth one just as good.